Studio 44  
 Leadership Away Days
 & Creative Development Days
Hello from Whitianga!!
Studio 44 is regularly open during the year for visitors to come and check out the latest collection of work that is emerging when I am here.
I also regularly host and facilitate Business & Management Retreats designed and developed to encourage creative intelligence in business, balancing up the left brain with right brain learning to accelerate the change momentum.  Workshops are tailored to specific business needs and can include visioning and values exercises, strategic planning elements and conversations about Spiritual Intelligence and the Art of Self Leadership[
I'm always happy to work out a time for you to visit and discuss what you are feeling you want to create. So call me and lets connect for a chat.
Painting teaches us to accept the power of the unknown, to work with ambiguity and to find solutions where we had not previously seen. 
We learn that not every project will survive

We extract a lot of hidden information information from it for our own learning and growth.

Acrylic paint teaches you how to  reinvent, recreate, re-balance or completely eliminate it and start again. (A great metaphor for life)

We learn to look beyond the obvious, to allow the unseen aspects, thoughts, conversations in our body to emerge  and get your hands engaged in practical, juicy creations that show you more than you thought possible. 

Experimentation assists in teaching you risk taking and builds confidence in other areas of your life.
Harvard Medical Research has now proven just 45 minutes of painting can actually reduce cortisol in your body, reduce anxiety, help people with depression, grief, cancer, dementia and much more. 

It promotes stress relief, expands personal and creative growth, enhances problem solving and critical thinking skills as well as solution finding. 

With practice, thinking creatively becomes second nature! 

It can cultivate emotional growth, releasing emotions and enables you to change how you see situations from different perspectives.

Builds positive mental and emotional well being.

Painting forges connections BETWEEN the mind and body that enables new insights that enable healing and restoration of life. 

Builds positive mental and emotional well being.
Executive Retreats
Creating change in life or business can trigger new and old fears, unleash our fear of the unknown, push personal buttons, raise resistance, increase anxiety and stress causing us to stop ourselves from achieving our desired results.
Combining my background in Change Management, Spiritual Intelligence and Art, together with your experience, knowledge, thoughts, feelings and intuition, we lead you on a journey of self discovery that connects you with the truth of where you really want to lead yourself in that next chapter, enables clarity around the results you want to create, and gives rise to a simple, easy to use blueprint for future plans and decision making. You can 'let go' of the confusion and tension, immerse yourself in the process while I lead you through the key pillars of change you need in order to create the next chapter with confidence and clarity.
Single 90 minute session is $150
One Day or two day private retreats by arrangement.
Away Days for Management Teams available.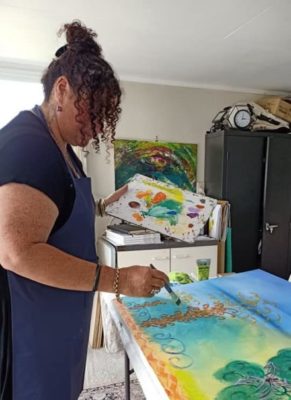 Art @ Work
Get the fun back into your planning and team building with a private Art@Work function.
A great way to kick start discussions around the future, create a dynamic new fusion of ideas, improve team communication and listening skills as they work through the core concept from blank canvas to end result in a fun and interactive way. Be warned, this can get messy as finger painting is one of the key tools we use to incorporate their unique blueprint into the future!!! Every Art @ Work session is designed specifically to meet your own unique business needs. Book a free consultation today.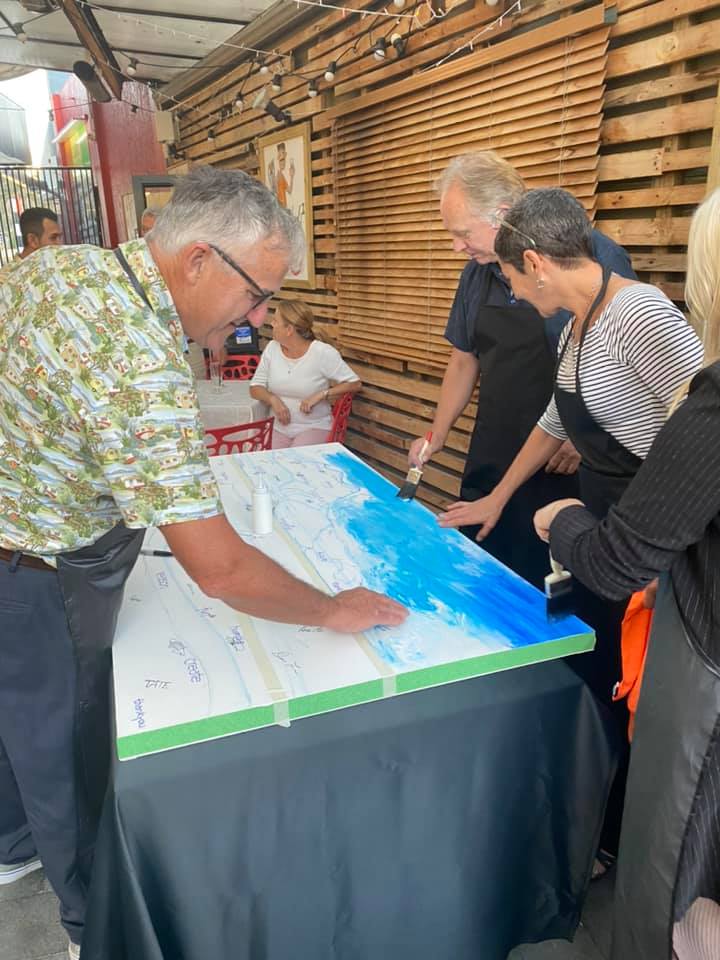 Coffee & Colour
Book the studio for a coffee & colour play date with a group of friends or workmates. BYO Lunch or catered options available. 1/2 day, 1 or 2 day play days by arrangement.
Blue Mountain
April 24 & 25
Combining palette knife and brush together we explore the power of contrast and colour mixing, dramatic skies, play with simple design elements to complete a subtle abstract acrylic on canvas.
 "Where earth touches the sky, connection with spiritual powers, overcoming perceived obstacles.  Mountains are often aligned with Masculine energy, protector of Sacred Earth Mother and hold her secrets deep within the well of their often volcanic origins. Represents outward expression of assertiveness." 
2 Day workshop $180 per person including materials and 1x canvas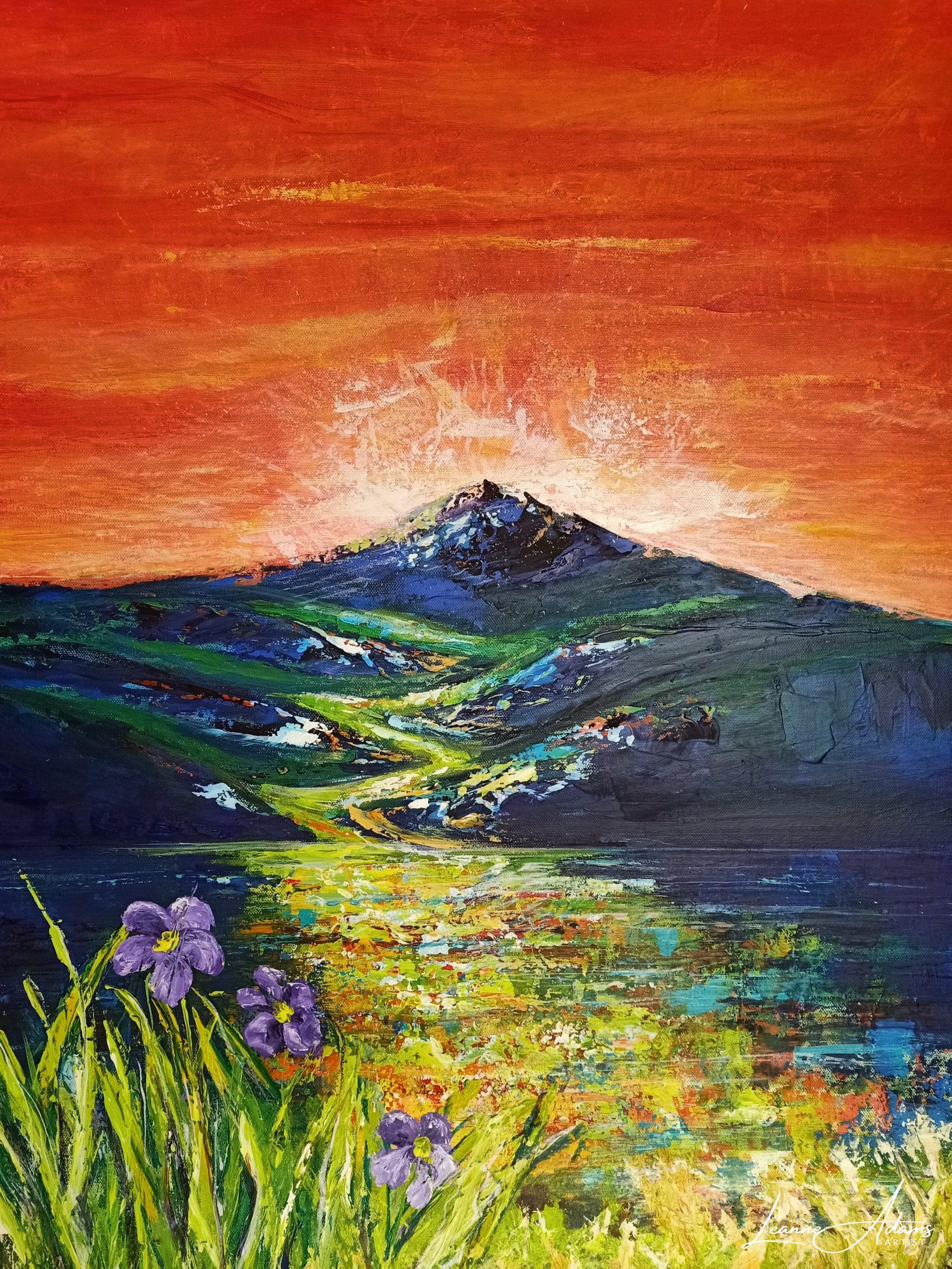 Strike point!
May 8 & 9
Explore the power of Horizon light, play with skies, clouds, ocean waves and strike point with rocks and sand to capture that moment of beauty through your strokes, flicks and play.
"Oceans are a world within a world and carry their own life source energy. Within the Oceans are limitless ability to connect with a different power source for your life, to move into the healing energy of the waves, tides and currents and learn to live with more fluidity and connection with Mother Earth and all her wisdom".
2 Day workshop $180 per person materials and 1 x canvas inclusive.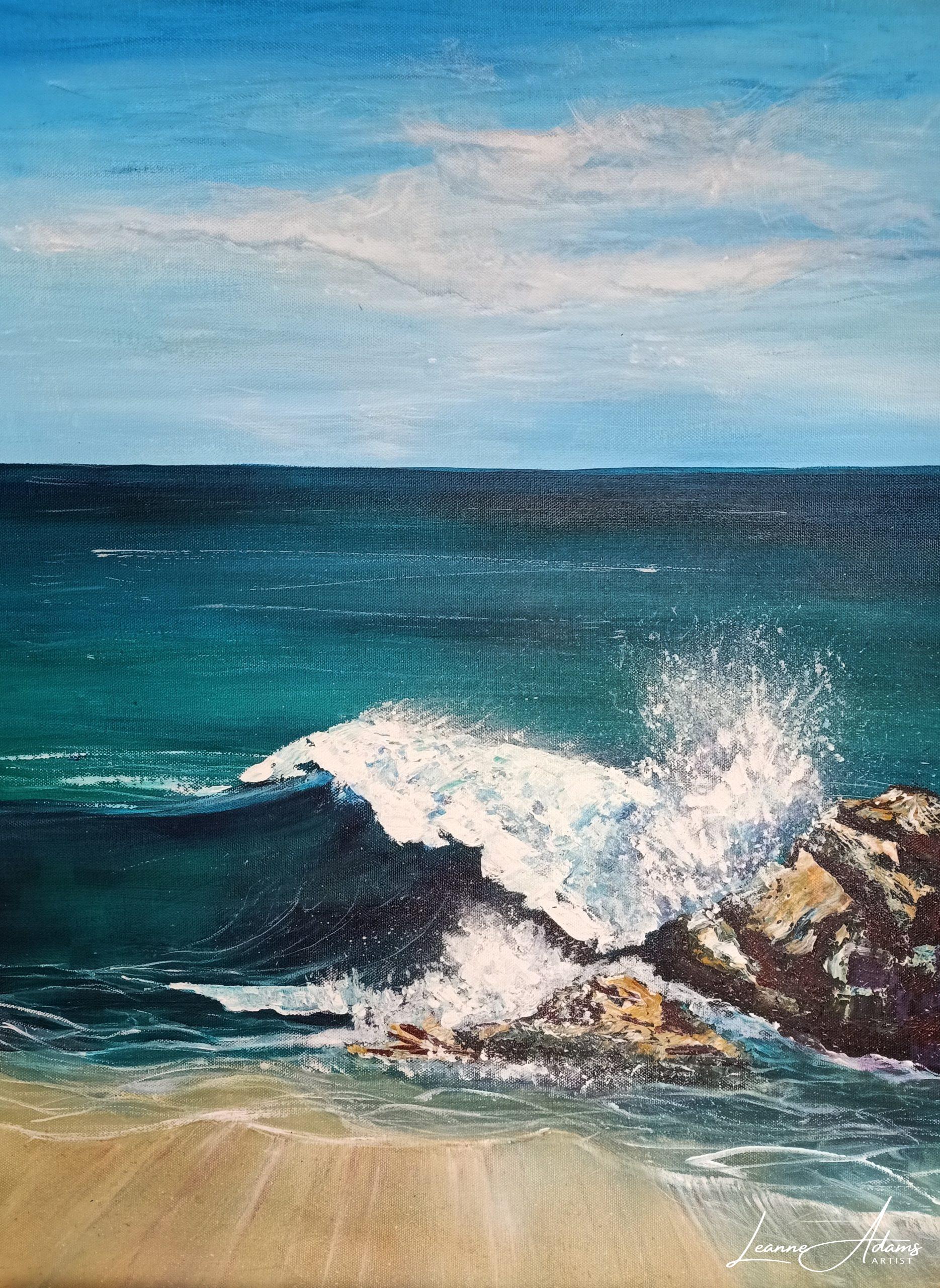 Alchemy of Abstract
5pm May 21, 22 & 23
Abstract is a visual language within its own right and holds some powerful keys to helping you to tap into your hidden mysteries and can help with your personal healing journey and self knowledge.
Often misinterpreted as simply lines and squiggles, when you are the artist it carries a whole different interpretation as you take the plunge into an organic working style evolving from your internal dialogue and learn to build understanding, confidence and trust.
Begin with core foundations of lines, strokes, marks, shapes, and then start working with different media to create different effects, play with layers, and start learning a new vocabulary for life.
5.30 Friday Get Away Gathering, light refreshments during workshop, texture and background materials, canvas x1 and paint $330 Per Person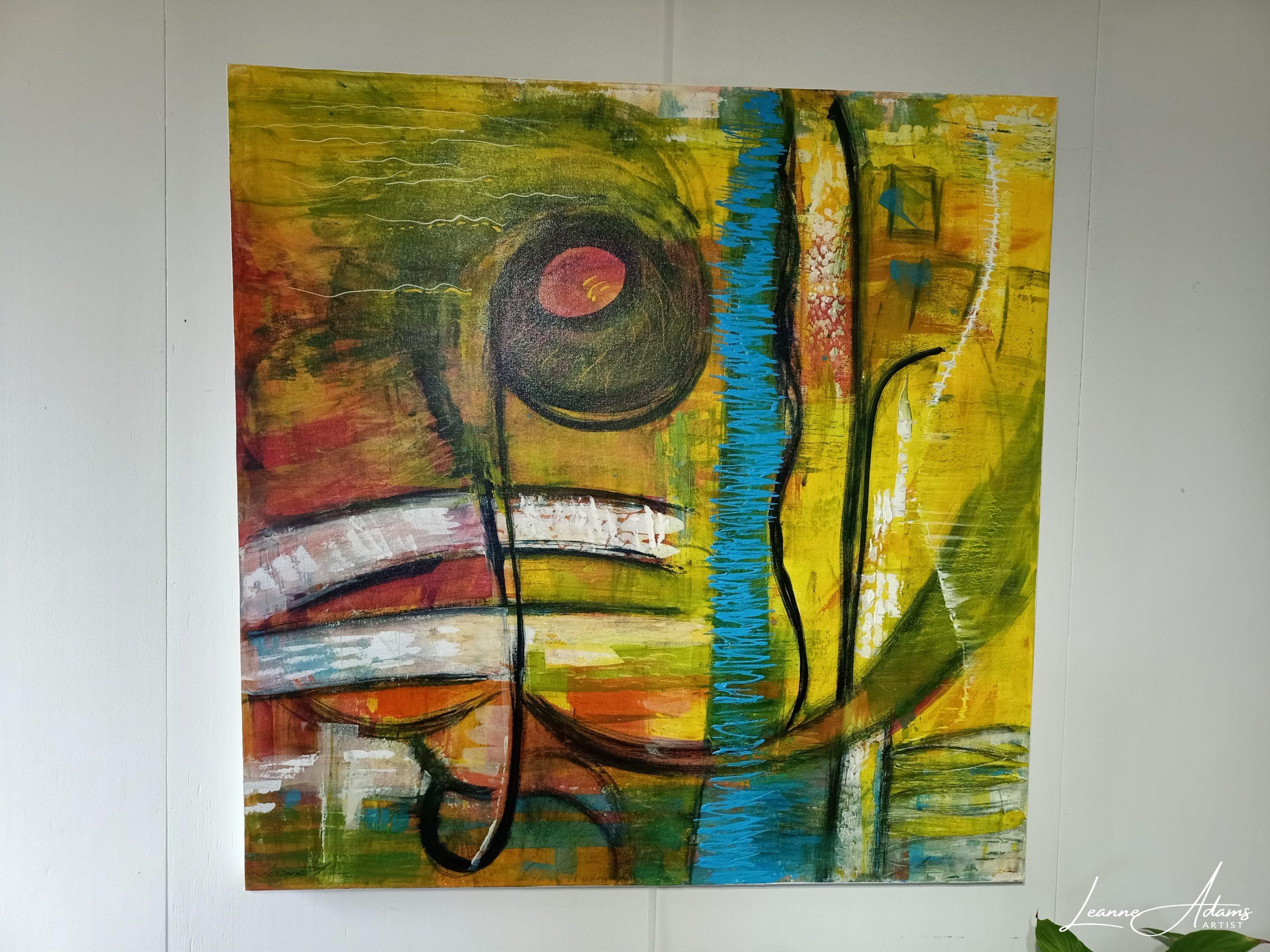 Tree Tribe
May 29 & 30
I Love Trees!!! And I love teaching you to work with these powerful ancestors.
Trees are one of the core foundations of our world and provide an intrinsic link for our health, healing and earth energy itself.
During this 2 day workshop I will take you for a walk through the local trees, teach you to connect and communicate, feel their energy and find a simple story from within. Art wise, we will cover the basic tree shapes, colour ranges and together bring you closer to a new appreciation for their world, their work and to paint your own new favourite version of these earth elders.
2 day workshop $250 per person. Includes materials and 1 x canvas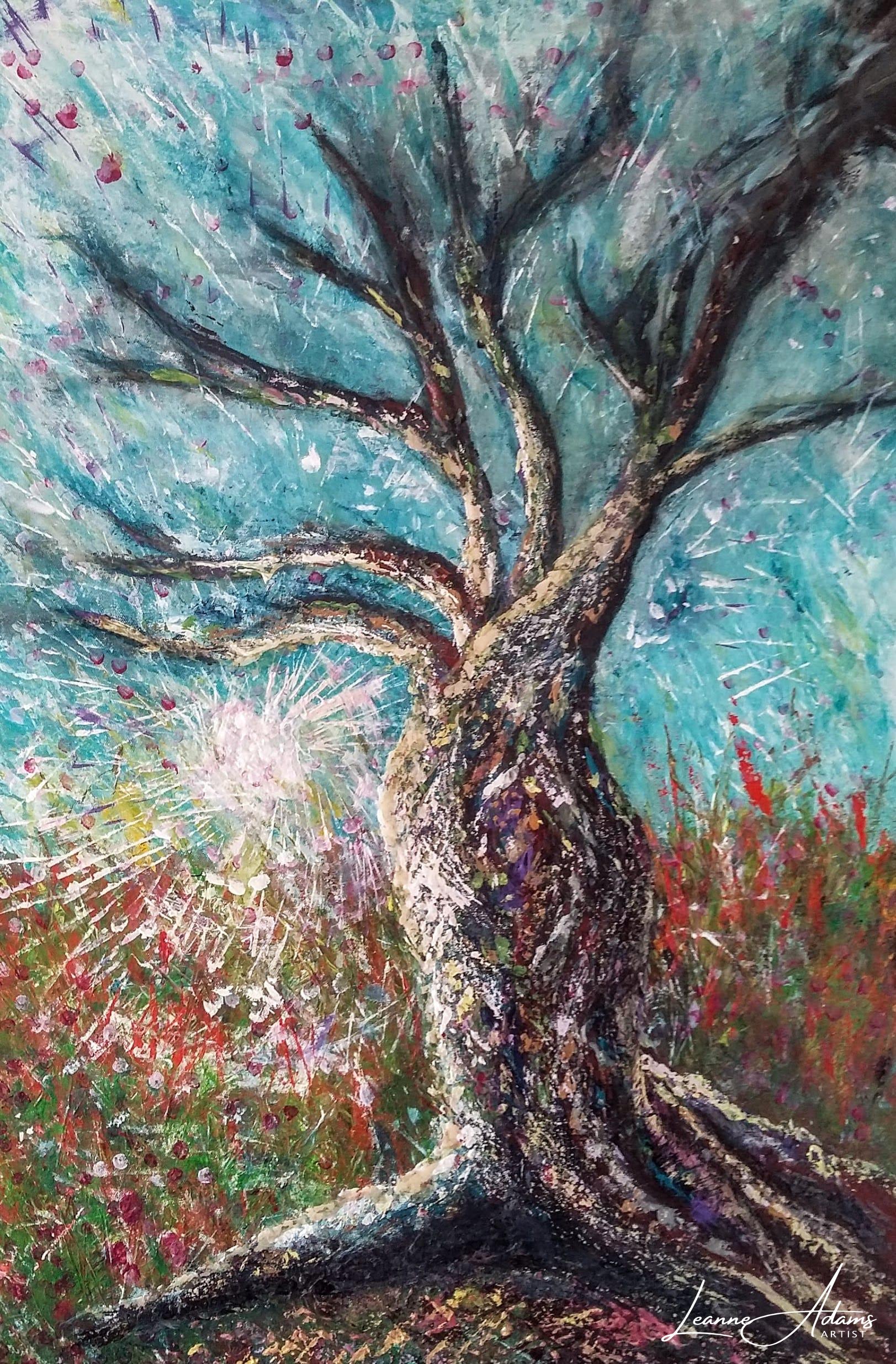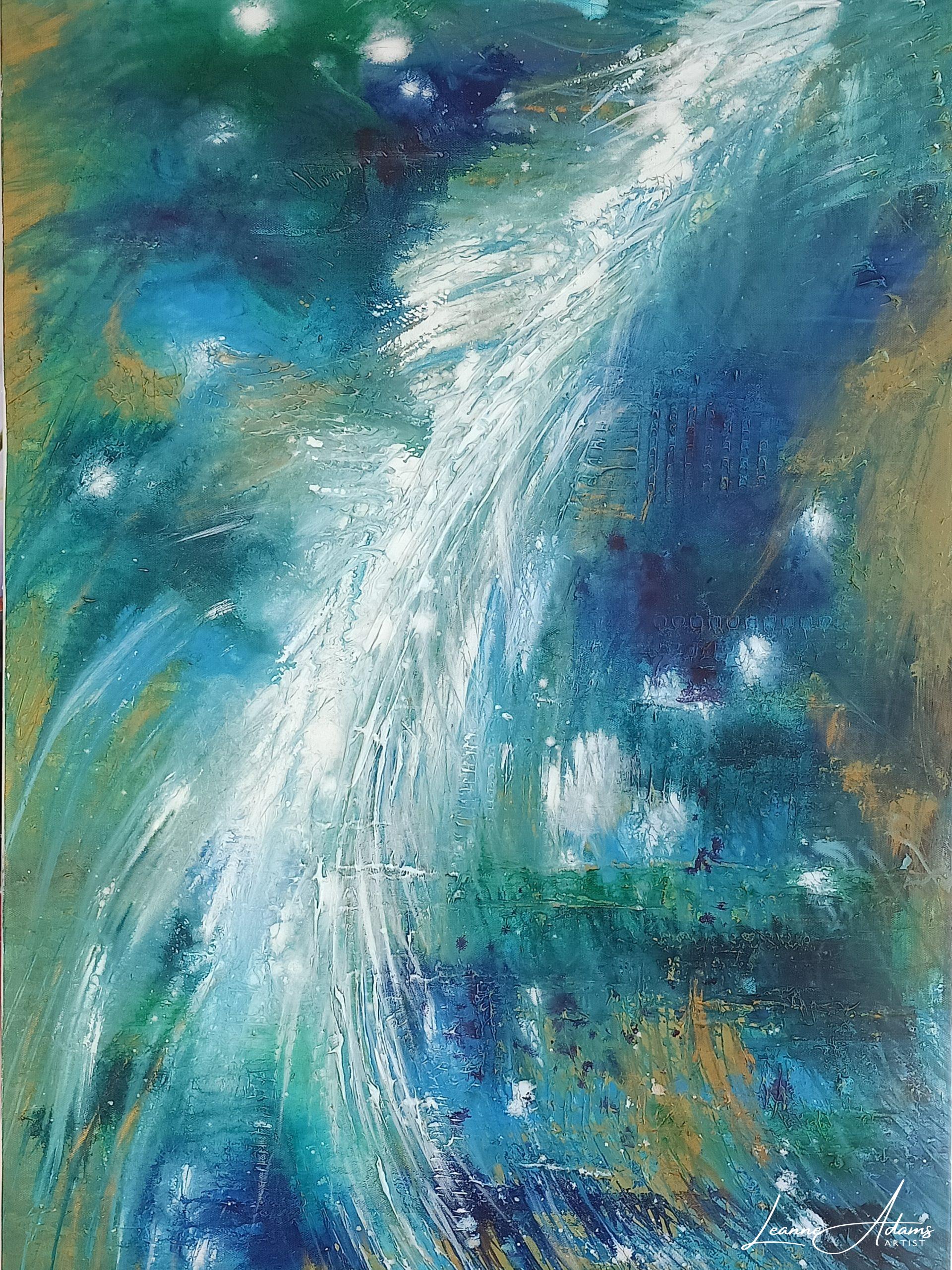 Mata Riki – Wisdom of the Elders.
From 5.30pm July 2, 3 & 4
Men Only
Beyond the locally accepted understanding of  Matariki, it has been part of our earth culture since the time of the ancient tribes.  Hawaiian, Japanese, Ancient Greeks all looked to the heavens when the Pleadian Ancestors aligned for wisdom and understanding about how to create the year ahead.
During this workshop we will utilise the symbolic 9 star system to plan, organise and structure a reconstruction of change for your life and how you can add more impact, create greater value and find a deeper sense of meanig and connection to all the life events you have had to walk through to get to here. 
Indicative Cost – $400 including 2 nights accomodation and meals. TBC.
Workshop Enquiry/Registration Form
If you would like to book a retreat for a small group of friends, or simply want to make some time and space for your own painting space then please connect via email, website or call me on 021 2579 249 and we can talk it through!
leannestudio44@gmail.com